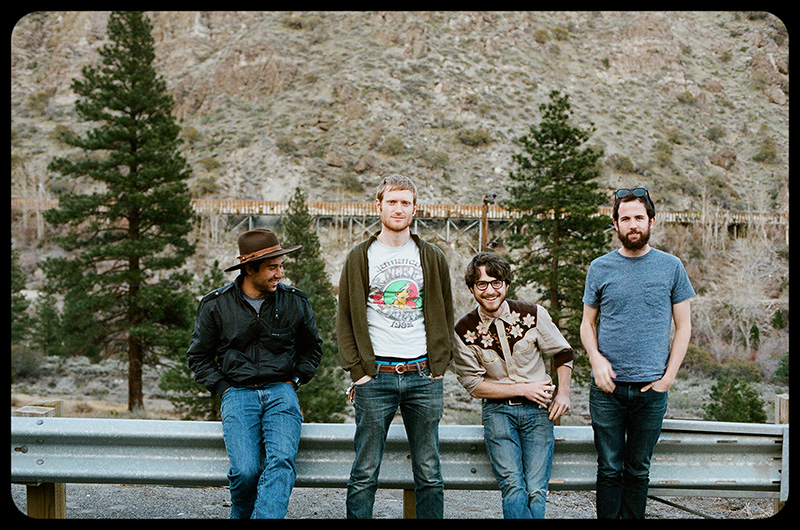 Photographed by Emily Sevin
It's pretty obvious why I gave this band a listen. Texas forever, yano?
Goodnight, Texas. Not just an amazing band name, but also an unincorporated town (population at last count – 28). But not just any town. It's the exact midpoint between San Francisco and Chapel Hill – the homes of songwriters Avi Vinocur and Patrick Dyer Wolf. In 2012, the duo added a rhythm section (Alex Nash and Scott G. Padden), and the band released their debut LP, A Long Life of Living. 
For now, though, I want to fast forward to their recent release - Uncle John Farquhar (named for Wolf's great-great-great grandfather). It's honest and it's gritty and it's full of stories that leave you wanting more. Below is my favorite track, which Avi posted about on Facebook a few days ago:
"I think this is about not doing anything crazy or ambitious until someone else takes the lead. Call it an anthem for the chronically non-trailblazing… I've been dreaming of moving to the South for years. I wrote this in Patrick's living room in Chapel Hill on guitar and kick drum, after seeing a life-changing Shovels and Rope show at Snug Harbor in Charlotte the night before. Patrick added some lyrics and a killer mandolin part. We finished it together in California and debuted it in Milwaukee. We quickly realized it would be a mainstay in our set list." 
Stream: "Button Your Collar"
Audio clip: Adobe Flash Player (version 9 or above) is required to play this audio clip. Download the latest version here. You also need to have JavaScript enabled in your browser.
Take me South
For cryin' out loud
____