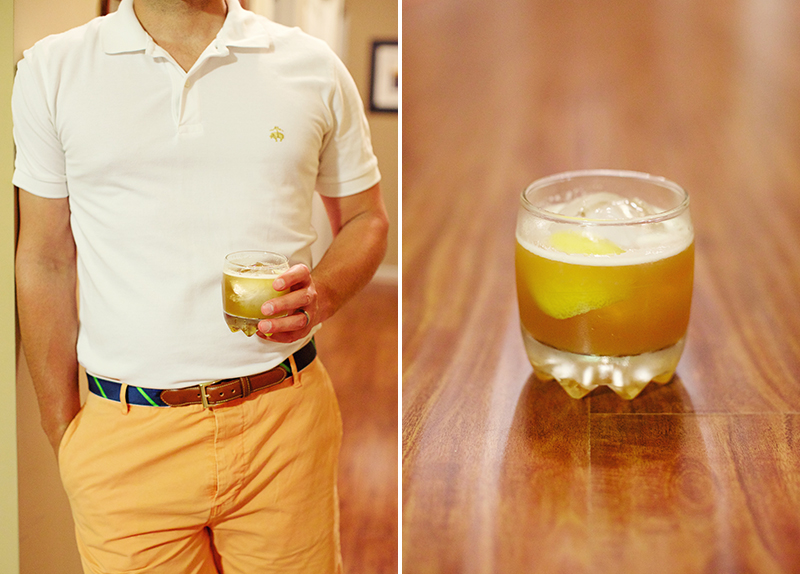 Earlier this week, I was perusing the BarNotes app in search of something new. I wanted it to be bourbon based, and I wanted it to be refreshing. When I read the recipe for the Bully Boy, I thought it sounded a lot like a recent favorite in our house, Jacob Grier's Shift Drink. His cocktail (Rye, Fernet-Branca, ginger syrup, and lemon juice) was exactly what I was in the mood for, but I was out of ginger syrup. I've also been looking for ways to use my homemade ginger liqueur, so the Bully Boy was the perfect solution…
The Drink: Before I tasted it, I'd already convinced myself it was going to be way too sweet. Instead, it's incredibly balanced and perfect for warmer weather. Bourbon and bitter balanced with lemon and ginger liqueur…seriously delicious. It's sweet, but not too sweet. For me, it's the Shift Drink meets the Mélisse Whiskey Sour (sans egg white).
Combine ingredients in a cocktail shaker and shake well.
Strain into a chilled lowball glass with a large ice cube (Tovolo sphere).
Garnish with lemon peel.
The Glass: Pat O'Mara lowball glass.
The Attire: