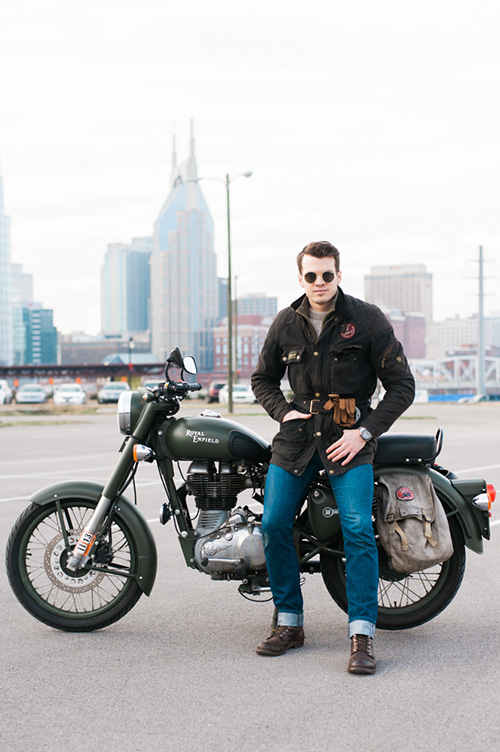 Photographed in Nashville, TN by Jamie Clayton
Raised in:
Annapolis, Maryland
Lives in:
Nashville, Tennessee
What inspired the motorcyle purchase:
I rented a Royal Enfield during a six week trip to India. I spent four days driving in and around Leh, Kashmir through ancient villages, temples in the shadow of the Ladakh Mountains. I then spent the final day driving up to Khardung La Pass (world's highest motorable pass, 17,852 ft) before the driving snow and ice at the top caused me to have to walk the last half mile (fairly difficult at that altitude). Following that, the Enfield wouldn't start due to the cold so I kicked it into neutral and coasted the 40 km back to the town. Once I got back to the States, I started saving up and knew I had to get one myself.
Favorite adventure on it:
After looking for a few months, I found a great used model in Denver but after being unable to coordinate a pickup I took matters into my own hands and flew to Ft. Worth and snagged this one. From there I spent a week traveling to Austin followed by two days riding and camping in the Ozarks, a stop over in St. Louis, Land between the Lakes National Park, and Nashville before heading back down to Pensacola.
Now would ya look at that: