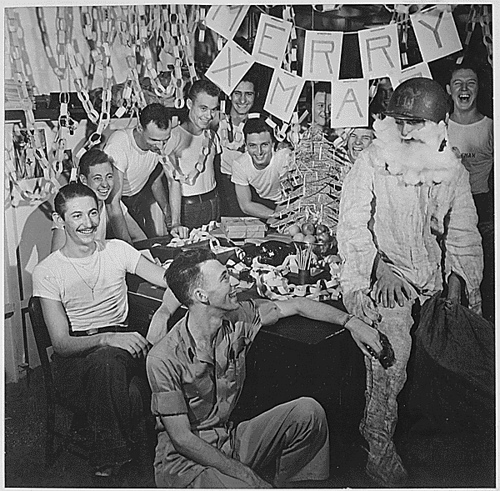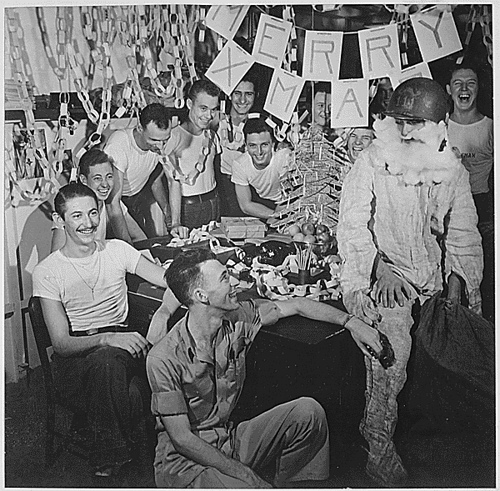 Personnel on the USS Lexington, December 1944
1. 100 Mile House – "We'll Count All The Days"
Audio clip: Adobe Flash Player (version 9 or above) is required to play this audio clip. Download the latest version here. You also need to have JavaScript enabled in your browser.
… a single. You can get this for free on Bandcamp.
2. Al Owen – "Santa Claus is Coming to Town"

Audio clip: Adobe Flash Player (version 9 or above) is required to play this audio clip. Download the latest version here. You also need to have JavaScript enabled in your browser.
… on Our Christmas Wish a Cancer Free World (iTunes | Spotify). I wouldn't call myself a fan of this song, but I can get down with this funky blues version. Real down.
3. LAYLA – "Winter, You Tease"
Audio clip: Adobe Flash Player (version 9 or above) is required to play this audio clip. Download the latest version here. You also need to have JavaScript enabled in your browser.
… on The New Year EP (iTunes | Spotify). So, so crazy about this one. Sure, it's not a "Christmas song," but it's a winter song and it just fits in a Christmas playlist.
4. The Canon Logic – "Kiss Me on Christmas"
Audio clip: Adobe Flash Player (version 9 or above) is required to play this audio clip. Download the latest version here. You also need to have JavaScript enabled in your browser.
… a single (iTunes | Spotify).
5. Echosmith – "I Heard the Bells on Christmas Day"
Audio clip: Adobe Flash Player (version 9 or above) is required to play this audio clip. Download the latest version here. You also need to have JavaScript enabled in your browser.