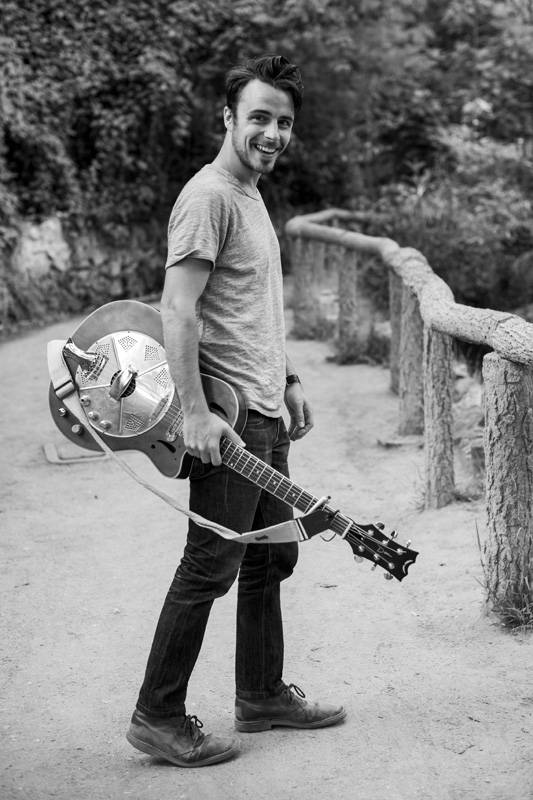 Photographed by David Kepner
The Bones of J.R. Jones is currently opening for Goodnight, Texas – a band I shared a few months ago, r recommended by one of you nice people. Jonathon Linaberry (aka The Bones of J.R. Jones) was kind enough to answer some questions for this Music Monday feature. Stream my favorite track from his latest album Dark was the Yearling while you learn a bit about him.
Stream: "Hearts Racing"
Audio clip: Adobe Flash Player (version 9 or above) is required to play this audio clip. Download the latest version here. You also need to have JavaScript enabled in your browser.
____
Raised in:
Small town Central New York.
Lives in:
Greenpoint, Brooklyn.
What role did growing up in New York play in how you developed your musical sensibilities:
I'd say that growing up with a lot of space and two brothers, taught me the value of family. We had a blast growing up whether we getting into trouble or not and I write from those memories quite a bit as well as drawn to music that I can connect to on that level. Also, growing up in Central New York , I kind of fell into the punk and hardcore scene.  Those shows taught me about passion and blind love for the moment in a performance. I remember going to see bands at the local community center and seeing people leave with bloody noses, bruises, covered with sweat. I was envious of the bands that could elicit such a response from the crowd. Such heart. Such love for the music and for the message. Not that I want people to hurt themselves at my show…I just want them to experience that emotional burst that I fell as a kid growing up.
Describe your music in 5 words or less:
Raw Country Blues with Honey.
What inspired you most during writing this album:
It may sound a bit morose, but my grandfather passed away while I was recording this album. That definitely had a profound effect on the songs I chose to put on it.
Favorite track from the album:
My favorite track is "Dreams to Tell." I had the most fun with this song, so much fun that I put two versions of it on the album. The reprisal version was the first song I wrote for Dark was the Yearling and probably the truest to form. I have a soft spot for how stripped down it is. I love it. I wish I wrote more songs like it.
Favorite place to perform in the South:
Right now, I'd have to say Boone, NC. I played there in early September and the reception was so warm. I didn't want to leave. The beer, the food, the people were just what I needed that night. One of the venue's owners even put me up for the night. And for that I am eternally grateful. I can't wait to get back.
____