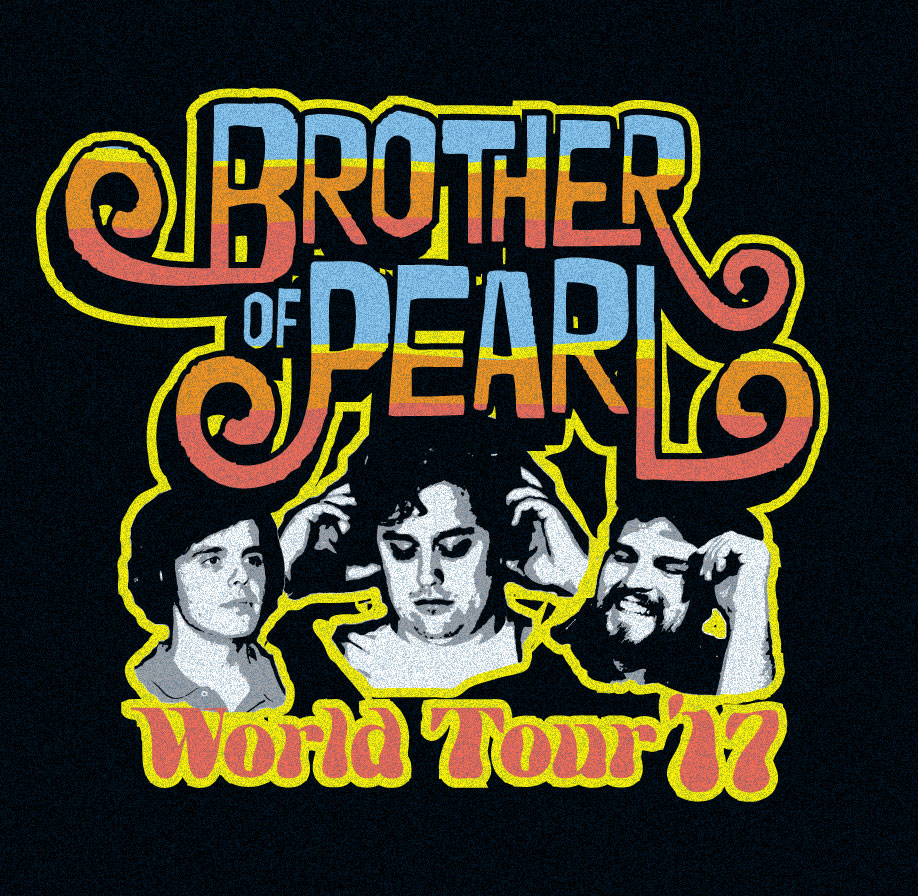 On August 26, 2011, I hit publish on my first "post" here. I air quote, if you will, because it was just a copy/paste bio about Brother of Pearl with a stream to "Dangerous Games." At the time, I wasn't lucky enough to call their banjo player my friend and had no idea that he and his wife's move to Atlanta from Texas would lead to him becoming one of our best friends. Since the friendship formed, you've seen Matt on every Glamp post, one of which included him serenading us with said banjo around a fire in North Georgia.
Six years have passed, and guess what? Brother of Pearl is back! They recently released their new E.P. A Long Ways Off. It's the same 'ol BOP in the best way and at the same time, matured – just like the three men who make 'em up. On Friday they hit their World Tour with Thomas Csorba. And by World Tour, they mean Texas…
I caught up with Matt about the band and tour. I love this dude and the music he helps create and I hope y'all do, too!
BROTHER OF PEARL IS BACK! Tell us about how that happened:
Back in 2012, we were making great music (in our opinion) and playing shows, and then all of the sudden "life happened" and it took us as far across the country as you can get. Josh moved to Boston, Tyler to San Francisco and I moved to Atlanta. Proximity hurt us, but the vision never died: make good music and play it as much as we can. Well, here we are, 5 years later. Tyler and I moved back to Texas (and Josh said he'd fly if he had to) so I dusted off the banjo and here we go!
Since y'all are all in different locations, how did the rehearsing and recording process go down:
When we moved away, we still had unfinished business. We had some songs that we loved and wanted people to hear. We didn't know what our future would look like but knew we wanted to at least put these songs in print. We hired our good friend and producer, Brian Douglas Phillips from Rattletrap Studios (who will be playing guitar on our tour) and we all flew in to Austin for a week to record. We couldn't be more pleased with the outcome. Welp…that was 3 years ago. We've been sitting on these songs and this is a perfect time to release them. We think it's the best stuff we've made yet.
What can everyone expect from your World Tour:
We are just happy to be back. We haven't played a live show in 5 years! But we are coming in hot. We are so excited and like everything in our career, just love playing music together. We don't know the next time… so we are leaving it all out on the stage.

Favorite track on the new E.P.:
"Lonely Nights, Restless Hearts" – I think this is the best song we ever wrote. A heartbreaking song about a couple in love but feels the angst of life happening, moving away, moving on; struggling with the balance between moving on, and holding on. It's a ballad that we as a band can relate to.
What you're most proud of when it comes to the band:
Over the last 5 years, living across the country, we would find any time we could to get together and play. Two things never changed: the chemistry and the heart behind playing music together, and the hope to never let it die.
What you're most excited about moving forward:
Early on, we stuck with a phrase "one fan." If one person likes our music, why stop playing? Why not keep making it and playing it until we can't anymore? So, I guess that's what we're gonna keep doing.