Hook & Gaff was introduced to me by Jamie Clayton, who shot these photos. His brother, Gash Clayton, is a self-taught artist and designed one of the watch models. His 2nd, 3rd, and 4th are coming out soon. When Jamie sent these, it was mostly to brag on his brother, but I fell in love with the images and the watches and knew they'd make a great feature.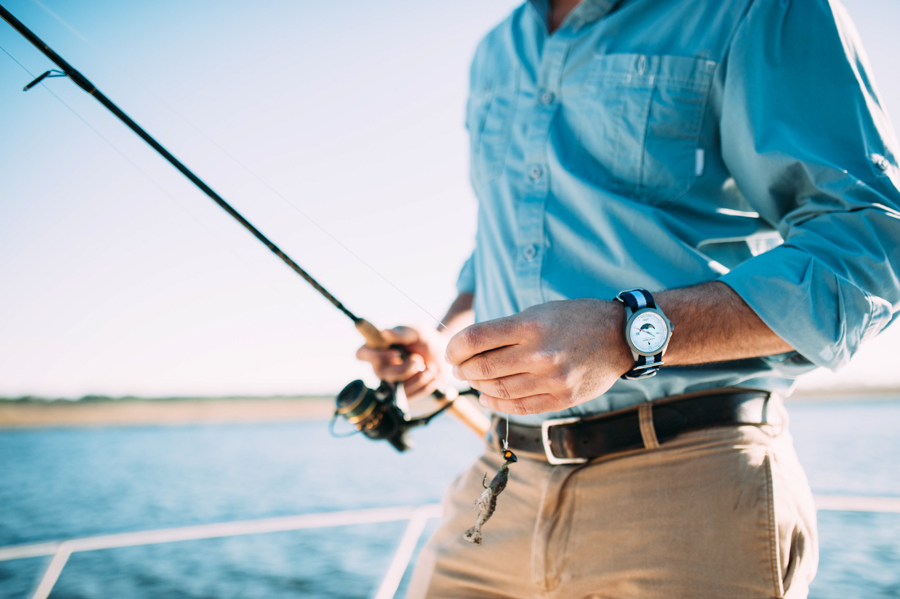 Man in charge:
Michael Sims.
Raised in:
Spartanburg, South Carolina. I've lived all over the state, from the edge of the Blue Ridge to the coast in Charleston.
Lives in:
West Columbia, South Carolina.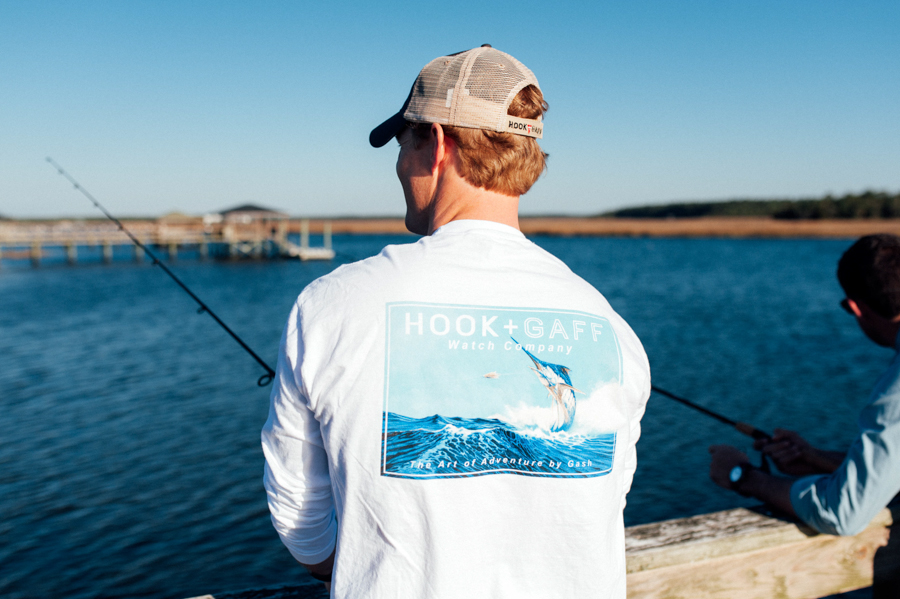 About Hook & Gaff:
This idea transpired because I couldn't find what I was looking for in a timepiece. Hard to believe! The trend in the industry right now is to go bigger and bulkier, specifically the ones targeting fishermen and outdoorsmen, and that just isn't my style. I was determined to make a watch that was functional, durable, and had an aesthetic quality that reminded people of a luxury watch. These are built for the boat, but nice enough for fine dining.
I spent several years researching, building a business plan, and contracting others to do design work for prototypes and logos before I had an epiphany to call my buddy Gash Clayton (also from Spartanburg). I knew he was a great artist and wanted his help sketching a logo. He'd spent several years doing graphic design work in Charleston, and to top it all off, he is somewhat of a watch enthusiast. He designed our logo the first night we spoke. We spent the next few days talking business and touching up the watch design for another prototype, and a partnership was formed.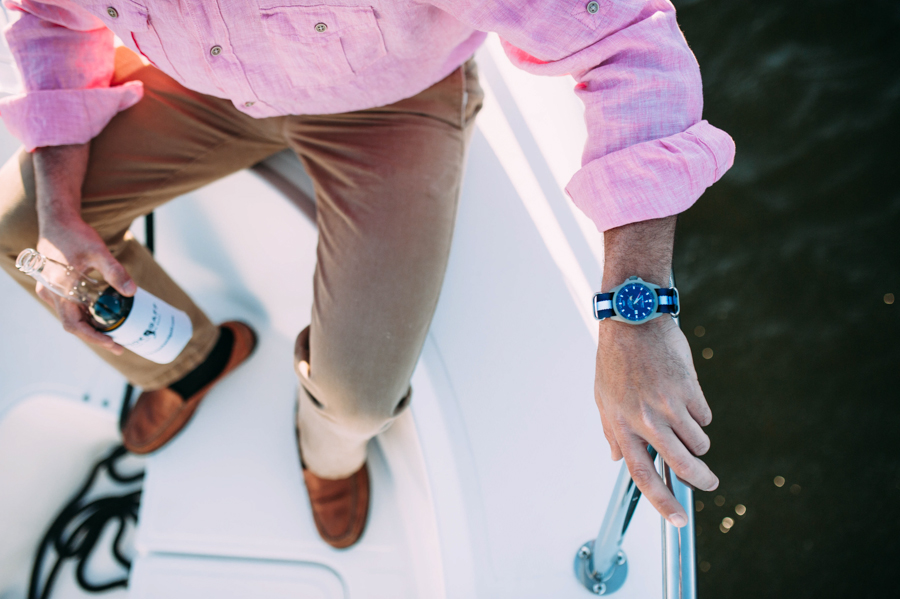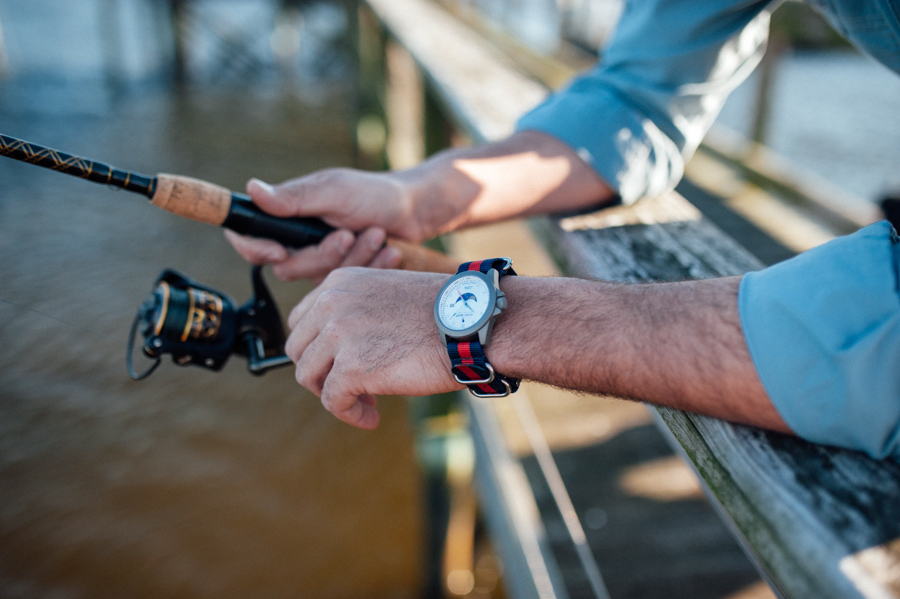 Design inspiration:
The design for our first watch had to meet our construction criteria. The case is constructed from ultra-lightweight titanium for durability and functionality. The glass is sapphire crystal, extremely scratch resistant, and this keeps our watch looking like new for years. It's water resistant to 200m for our guys and gals who spend time in the water. We also have flipped the crown to the left side of the watch and we'll continue to do this for the majority of our models. This is unique, but it became a necessity for me because the right side crown irritated the back of my left hand when I was fishing or playing golf. Our first Sportfisher also features a moon phase mechanism, letting you know when fish may or may not be feeding, especially pelagics. The dial design is a throwback to some vintage moon phase watches that were produced in the 1950's, but we've modernized it a bit and have given it a very classy look.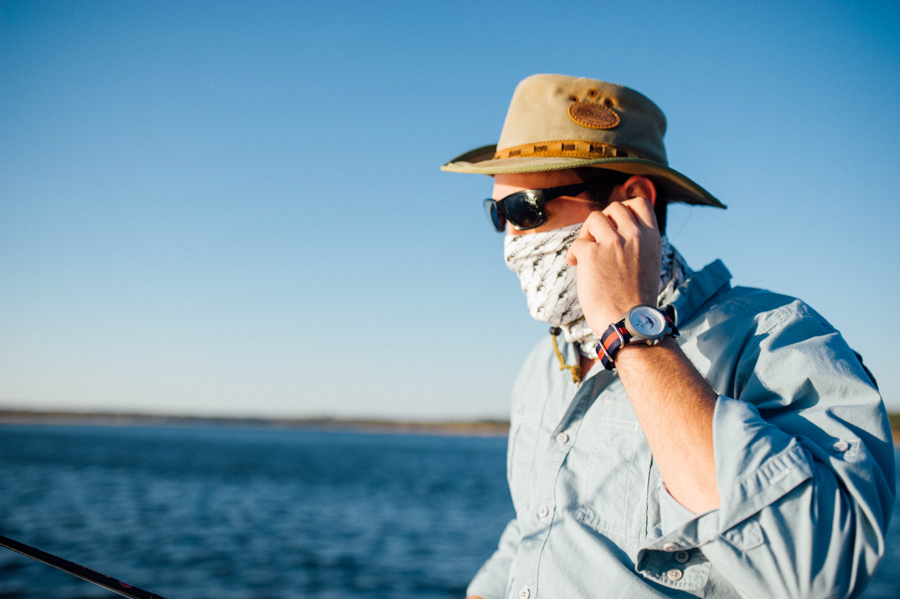 What sets y'all apart:
We are bucking the trend to go bigger and bulkier. Instead, we are targeting active outdoorsmen with this sales pitch: "Hey, we've got a watch that is lightweight, thin, but extremely durable. And the best part is, you can wade into the flats wearing it, fillet a flounder, rinse off and wear it to dinner that night." Our watches are assembled right here in the U.S. Our first Sportfisher is an entirely Swiss made watch, but beginning with our second model that we'll roll out soon, we partnered with a watchmaker who takes our Swiss movements and assembles the watches in North Carolina. We're very excited about creating a watch business with production based here.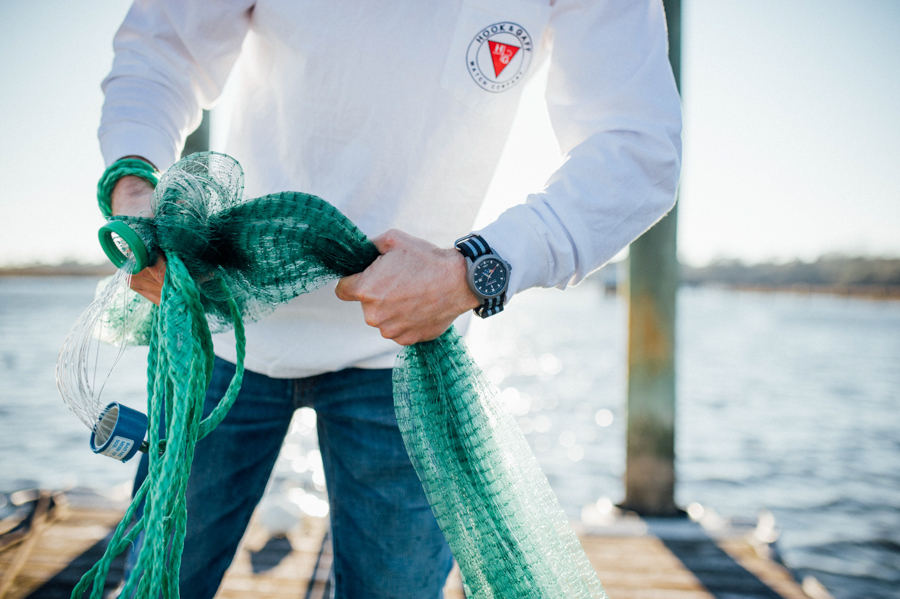 Favorite spot you've fished:
Well now, I can't reveal my favorite spot now can I? Every fisherman knows that's a recipe for disaster! I have a few inshore spots in Charleston that I really love. I gravitate towards inshore fishing because I enjoy the hunt. Finding fish is just as fun for me as reeling them in. When it comes to offshore, I'll have to take you down to Tuna Town – Venice, Louisiana. Venice is awesome. Fishing the Gulf is so much different than fishing the Atlantic. Everything is different, even the style of the boat and the equipment. Fishing the oil rigs versus trolling temperature changes, weed lines, or ledges. I've thoroughly enjoyed fishing in Venice the few times I've been, and I have to plug my boys at the Mexican Gulf Fishing Company. If you want to put tuna in the boat, they can do it. Love those guys!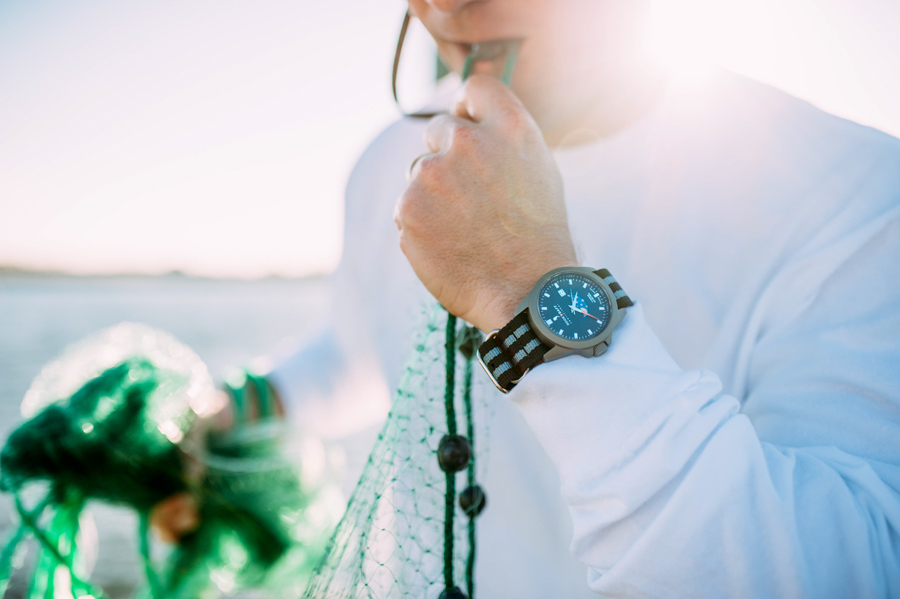 Thanks to Michael Sims for the fantastic interview!
Go shop Hook & Gaff.