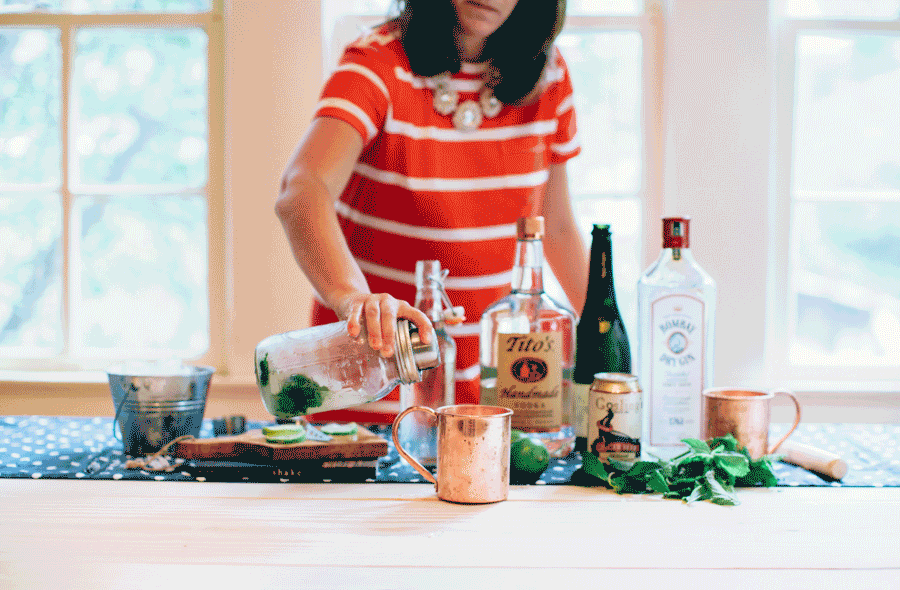 We've said it before and we'll say it again – we love Huckberry. So when the nice guys over there contacted us about teaming up for a little giveaway, we said "of course." When they said they'd like it be part of the Drink This series, we liked them even more.
I'm pretty sure you've all seen The Mason Shaker. To be honest, I gave it a lot of flack when it came out. Being a part of the wedding industry has really burned me out on all things mason jars. But this 32oz shaker is pretty fun, I must admit. It's a great addition to a fully stocked bar (if even just for asthetic), and a nice place to start for those in need of a shaker/strainer combo.
Shortly after I received it, I finally ordered a pair of copper Moscow Mule mugs and when they arrived, I needed to use them immediately…
I'm not much of a vodka fan for anything but Bloody's and OJ, so I wanted to try a variation on the Moscow Mule. Below are the recipes to two great cocktails to mix up your "Mule" drinking. The first, a Gin-Gin Mule, I was introduced to by Imbibe, who named it one of the 25 most influential cocktails of the past century in their May/June 2010 issue. The second, The Montauk Mule, I found in Shake: A New Perspective on Cocktails.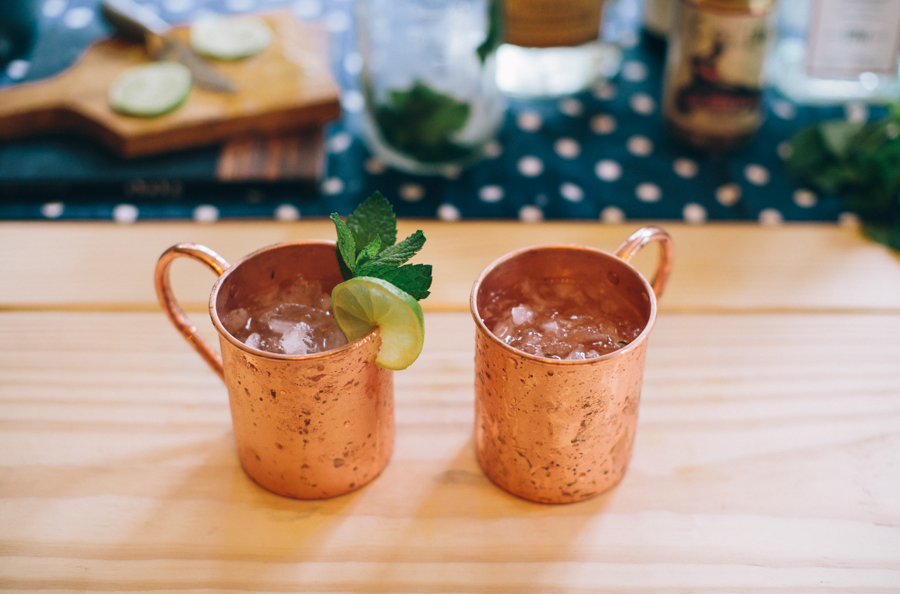 The Gin-Gin Mule:
6 mint sprigs
1.5oz dry gin – we used Bombay
1/2 oz fresh lime juice
1/2 oz simple syrup (1:1)
3/4 oz ginger beer – we used Gosling's
Gently muddle the mint leaves with lime juice and syrup in shaker.
Add the gin and ice and shake well.
Strain into cup filled with crushed ice and top with with ginger beer.
Garnish with lime wedge and mint sprig.
The Montauk Mule:
Shake uses "Shot" meausurements to make 2 drinks. We adjusted to ounces for 1 drink.
2 mint sprigs
2 oz vodka – we used Tito's
2 cubes cane sugar
1 oz fresh lime juice
Prosecco – we used Nino Franco
Muddle cane sugar and lime juice in shaker until sugar has mostly disolved.
Add vodka and ice and "shake vigourously for 10 seconds."
Strain mixture into tumblers or Mule mugs if you've got 'em, and top with Prosecco.
Garnish with mint sprig if desired.
______
Want one more reason why Huckberry is the greatest? They want to send one of you lucky folks a pretty ridiculous gift set.
What the winner will get…
Leave a comment below letting us know the highlight of your summer so far. We'll pick a winner by random on July 1st around cocktail hour. Oh and also, you'll get an extra entry if you Tweet the following:
I wanna shake, shake, shake a @Masonshaker! Ridiculous giveaway thanks to @Huckberry on @backdownsouth. http://tinyurl.com/ShaaaaaakeIt
*THIS GIVEAWAY IS NOW CLOSED! CONGRATULATIONS TO MOLLY PICARDI FOR WINNING!*