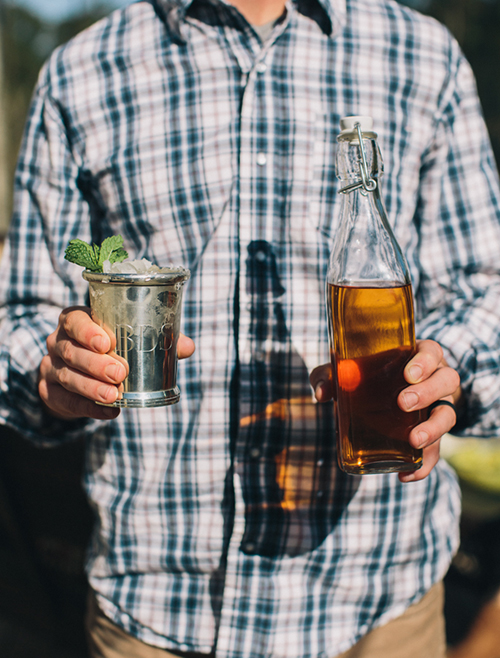 The Drink: Jamie and I launched our second Drink This Takeover with a Mint Julep, so they're no stranger here. I (Caroline) claim it as my all time favorite cocktail, and I drink 'em like crazy during the Spring and Summer. On Sunday (Mark's birthday!), we had a few friends over to for a back porch party, and I thought it was the perfect time to make my first Julep of the year. I figured I wouldn't be the only one drinking them, so I wanted to prepare them ahead of time. If you make them the "right" way (muddle mint with simple syrup, crush ice, etc) they can be pretty time consuming, and I didn't want to spend the entire party at the bar. Solution? Bottled mint juleps. Bonus? I've still got some in the fridge.
Your first step is to whip up a batch of mint syrup and let it cool.
For a 16 oz bottle, funnel 12.5 oz bourbon and 2.5 oz syrup*.
Cap it and mix the ingredients together (don't shake).
To serve, pour 3 oz into Julep cup or glass and pack with ice.
If you want to serve these at a party like I did, crush up a bunch of ice in a Lewis bag and keep it in the freezer. Then, per order, all you've gotta do is pour the cocktail, add ice, garnish and serve! If you have leftovers, drink them within a week or so.
*If your bottle isn't 16oz, just use a 2.5 oz bourbon and 1/2 oz syrup recipe when adjusting proportions.
The Cup: 8 oz Salisbury 'Texas' Pewter Cup.