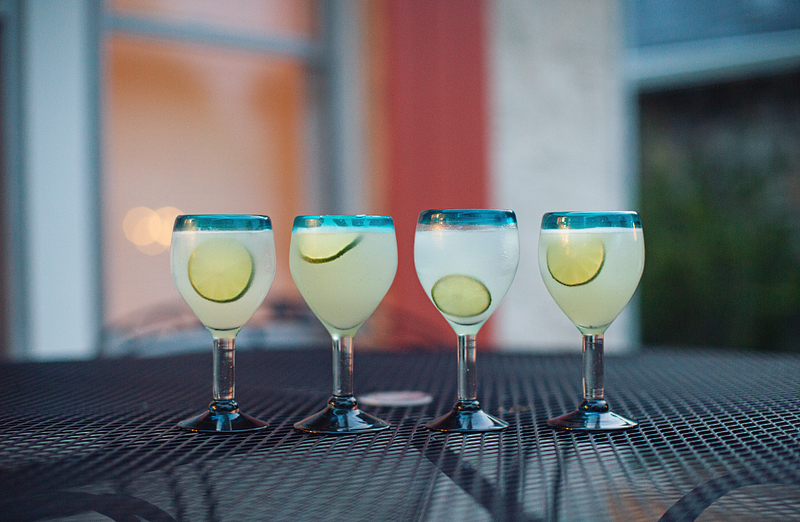 "Despite its unfortunate reputation as the Lindsay Lohan of the drink world, it deserves to rub elbows with the likes of the Manhattan and the martini. A properly made margarita is like Emma Stone-fun-loving but, deep down, classy and smart." – Wall Street Journal
Happy Cinco de Mayo! There truly is no better way to celebrate the Mexican army's 1862 victory over France than to drink margaritas. AMIRIGHT?!
Let's get right to it. I've said it before, and I'm saying it again: it's a tragedy how horrible the majority of margaritas are made. My Texan blooded heart breaks at the disservice to this glorious drink that the majority of restaurants have brought. My beloved 'rita, one of the easiest drinks to make, has been hijacked by sweet-and-sour mixes, frozen fruits, cheap tequilas and machines.
The Drink(s): The basic margarita should only have 3 ingredients in it: tequila, triple sec and lime juice. Like all cocktails, your margarita will only be as good as your worst ingredient, so don't buy from the bottom of the shelf. For the four we made, we chose Espolón Blanco tequila, one of the best tequilas for the money. Whatever you buy, make sure it's 100% agave, and stick to blanco (a.k.a silver or white) tequila for your 'ritas. Next, don't buy that $10 Triple Sec bottle with the orange on it. Get some Grand Marnier or Cointreau, the latter of which I prefer. Last, when I say lime juice, I mean freshly squeezed lime juice. Don't you dare buy a concentrate or limeade. Fresh, fresh, fresh.
Now, here are cuatro recipes that we love. We whipped these up with friends in Nashville and had a little tasting party. We even decided to extend the invites to our friends and family to get their thoughts on it too. Ok, some of the people may have used a fake id to get in on the action, but we made sure that we drank responsibly, as we wanted as many honest opinions as possible. I think it worked. They were all well received, and everyone had different favorites, which is why we'd encourage you to try them all and decide for yourself! You shake 'em, you strain 'em, you like 'em.
UNO | The Classic (3 parts tequila, 2 parts triple sec, 1 part lime juice)
1.5 oz tequila

1 oz triple sec
1/2 oz lime juice
pinch sea salt (I prefer shaking with salt instead of rimming glass)
DOS | Caroline's Favorite Variation (found in The PDT Cocktail Book)
2 oz tequila

3/4 triple sec
3/4 lime juice
1/4 agave syrup
TRES | Mark's Favorite Variation (via Jeffrey Morgenthaler)
2 oz tequila

1 oz triple sec
1 oz lime
1 oz lemon
1 oz simple syrup
CUATRO | The Bitters Variation (via White on Rice). This one tastes the most different, but still really delicious. The bitters in place of triple sec bring a really unique flavor while still managing to taste like a margarita.
1.5 oz tequila

1.5 oz lime juice
1 oz simple syrup
3 dash orange bitters
The Glasses: Tig got these at a market in Cabo San Lucas.
______
Bonus note: I've been margarita-focused in restaurants over the past couple of weeks and have noticed something that'll make a lot of girls happy. The majority of margaritas that are described as "Skinny" on a menu are actually the ones that will taste the best! This may not be true of all places, but if you read the ingredients what you'll hopefully see is "fresh lime juice and agave nectar" instead of sweet-and-sour. If you find yourself in a place where Splenda is listed in the ingredients, get up and leave.