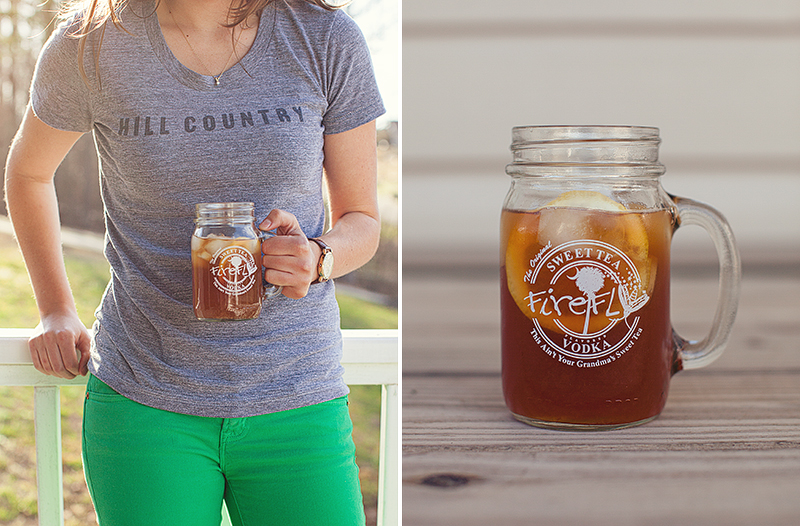 The Drink: The Mulligan, our improved version of a John Daly (lemonade, tea, and vodka). You may have been calling it an "alcoholic Arnold Palmer," but it's John Daly, friends.
When Firefly brought sweet tea vodka into our lives, it made John Daly's even easier to make, and even more delicious. But when we visited the distillery last Spring, I discovered something that my liquor store didn't carry at the time: Sweet Tea Bourbon. Holy smokes, southern Batman! I was in love. Bourbon whiskey from the Buffalo Trace Distillery infused with South Carolina tea and sweetened with cane sugar? Boom.
Now that it's officially warmer weather cocktail season, sweet tea liquor was in order a few nights ago…but I wanted to alter it a tad. Thus, The Mulligan was born. Using Sweet Tea Vodka in this would also be delicious, I just highly recommend giving it a try with Sweet Tea Bourbon. The must do alteration here is fresh lemon juice instead of store bought lemonade. A little extra work goes a long way in this drink. The measurements below are for a 12 oz glass. Pour, stir, and enjoy.
6 oz Firefly Sweet Tea Bourbon (or Sweet Tea Vodka).
3 oz water.
1.5 oz fresh lemon juice.
Handful of ice.
Lemon wheel to garnish.
The Glass: Firefly Mason Jar glass (c/o).
The Attire: 
______
Are you jealous of my awesome Firefly mason jar glass? I figured you would be…so they sent me 2 to give to one of you! In honor of The Masters starting today, and, well…the whole golf talk thing we've got going on here…you just need to leave a comment on this post letting us know who you're pulling for this year! A winner will be drawn at random on April 14th after the green jacket is on the shoulders of the 2013 winner.
Additional high fives for liking:
*THIS GIVEAWAY IS CLOSED – CONGRATULATIONS TO THE MAPLES FAMILY FOR WINNING!*