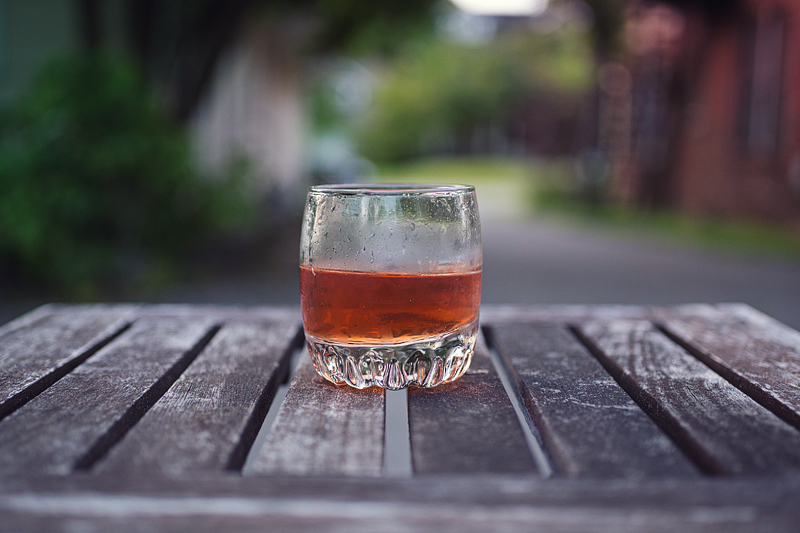 The Drink: When it comes to such a historic cocktail, you're going to find various ways to make it. Some use sugar cubes, some use syrup, some use lemon peel, some flame orange peel, Herbsaint or Absinthe…the options seem overwhelming. But, what we want whiskey lovers to know is that this drink is actually incredibly simple to make at home.
First – don't let absinthe scare you. It's an anise-flavored liquor derived from leaves and flowers and putting it in your cocktail(s) will not make you hallucinate. For those interested, read more about it here. It can also be pricey, but the small amount used in your drinks will make it last longer than anything else in your bar. Some liquor stores sell mini bottles of Absente for about $10. I (Caroline) have been using mine for months.
Second – you've got to use Peychaud's bitters. Peychaud's is comparable to Angostura, but has a lighter body, sweeter taste, and is what helps make the Sazerac such a pretty drink.
So, here is what we use, what we do, and why we use and do what we use and do…
Rye Whiskey – we recommend Sazerac for your Sazerac.
Absinthe – we both use Absente. Herbsaint is often recommended because its drier than Pernod and sweeter than Absente. We love Absente because of its price and because it's not as sweet as Herbsaint.
Peychaud's
Simple syrup
Orange or lemon peel – we like flaming an orange peel to a lemon zest, but sometimes it just depends on what we have in the fridge. Both are delicious, but flaming an orange peel is also a lot more fun.
Chill an old fashioned glass.
Take another old fashioned glass and add 2.5-3 oz Rye (we like 3), 3/4 oz simple syrup and 2-3 dashes Peychaud's.
Add ice and stir until cold.
Take your chilled glass and a splash of absinthe for an absinthe rinse (1/4 oz or less).
Swirl the absinthe to coat the glass and discard the rest. You can also fill a small spray bottle with absinthe and spray your glass instead of rinsing.
Strain the rye, bitters and syrup into your absinthe rinsed glass.
Flame an orange peel to add caramelized citrus oil, or lemon peel twist.
No garnish.
The Glass: Crown Royal lowball glass.