This is a mini takeover with Jamie Clayton to teach y'all a litle sumpin' sumpin'. He'd been going on and on recently about a peach infused bourbon he made, and then later another with pecans added. I took the oppurtunity on a recent trip to Nashville to head over to his house to first and foremost, taste it (YUM), and second, photograph the process so y'all can make some of your own.
The rest of the post is written by him:
My neighbors and good friends Stephen & Jessica own The Peach Truck.  Its an awesome business where they take peaches from Peach County, GA (I'm not kidding) and sell them all over Nashville and small towns across the southeast. Being from South Carolina, I'm partial to my peaches and I have to admit, these are some of the best damn peaches I've ever had.
Another cool thing The Peach Truck sells is pecans from Pearson Farm. I decided this summer I would infuse some of my favorite whiskies with The Peach Truck peaches & pecans. It's easily one of the best decisions I've made this summer. The ONLY problem is that the bourbon goes too quick.
For how good it tastes, it's incredibly easy to make…
In an airtight container, add 4 peeled and cut up peaches (large chunks) and a hefty handful of pecans.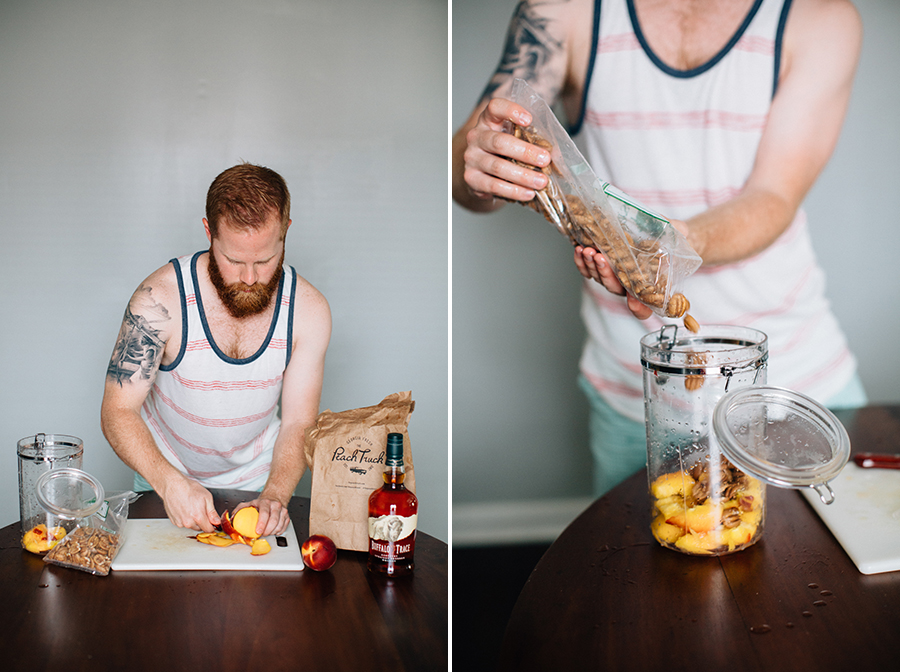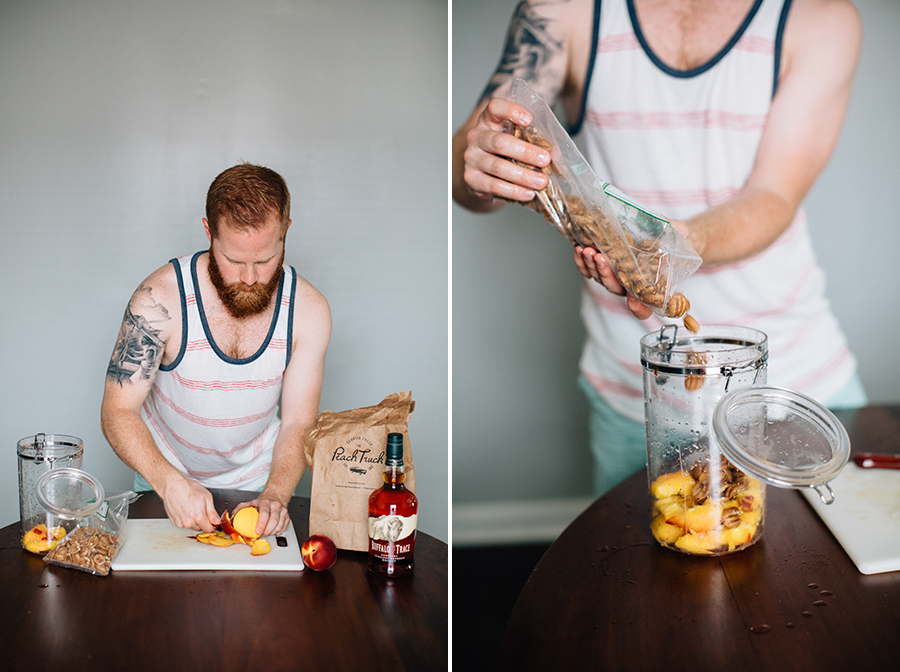 Get a bottle of your favorite whiskey – make it something you would enjoy sipping neat or on ice. Pour the entire 750ml bottle of bourbon into your container.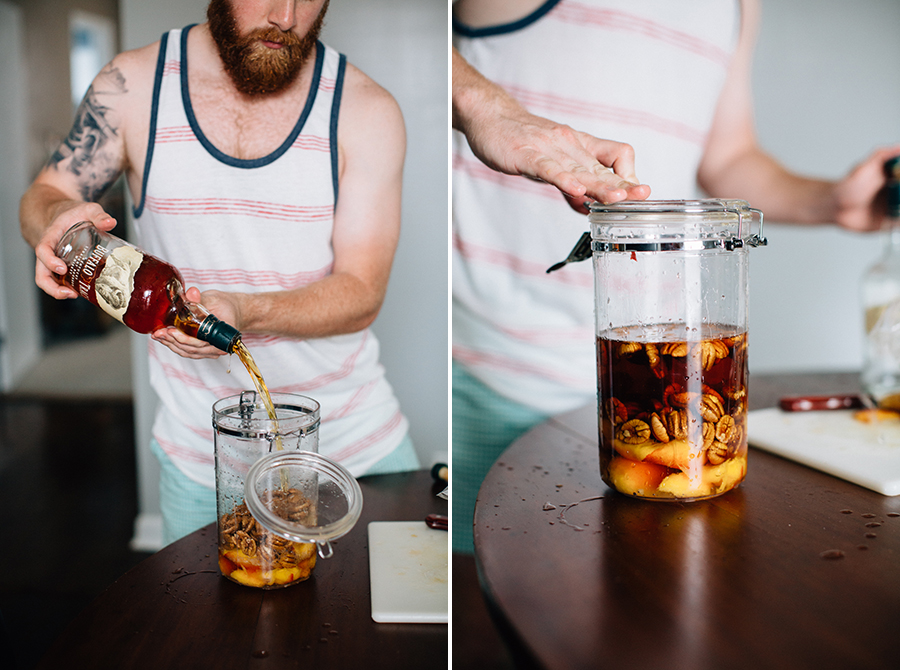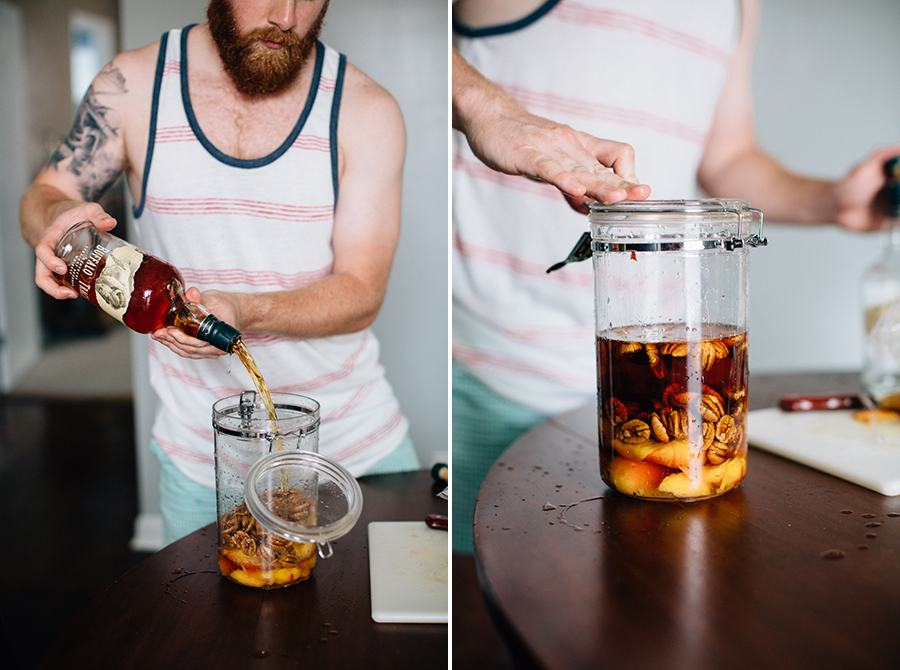 Close that bad boy up and give it a good shake. Keep it in your fridge and give it a light shake once a day.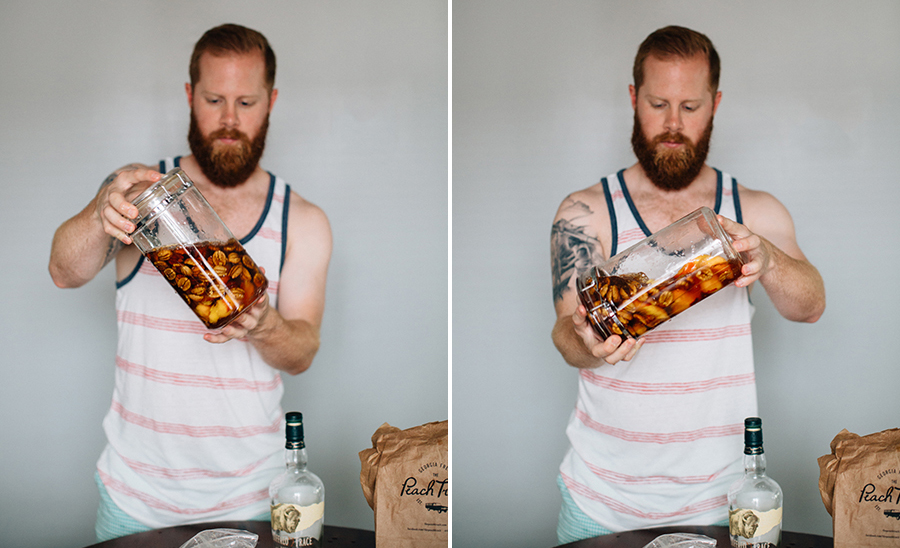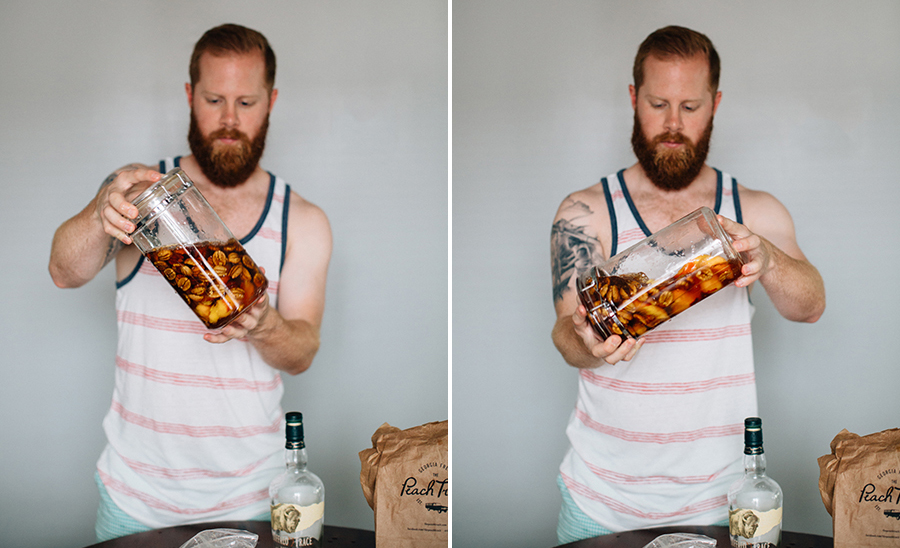 Wait about 5-7 days and then strain your whiskey into a bottle. I used an old Bulleit bottle because lets be honest, they look badass.
When you strain the bourbon, put a cheesecloth in a funnel and strain about 2-3 times. Your end goal is gorgeous bourbon with as little sediment as possible in it.
EDITORS NOTE: Jamie just moved and in the process he lost his smaller funnel so he has been using this giant one. It did the job and did the job well.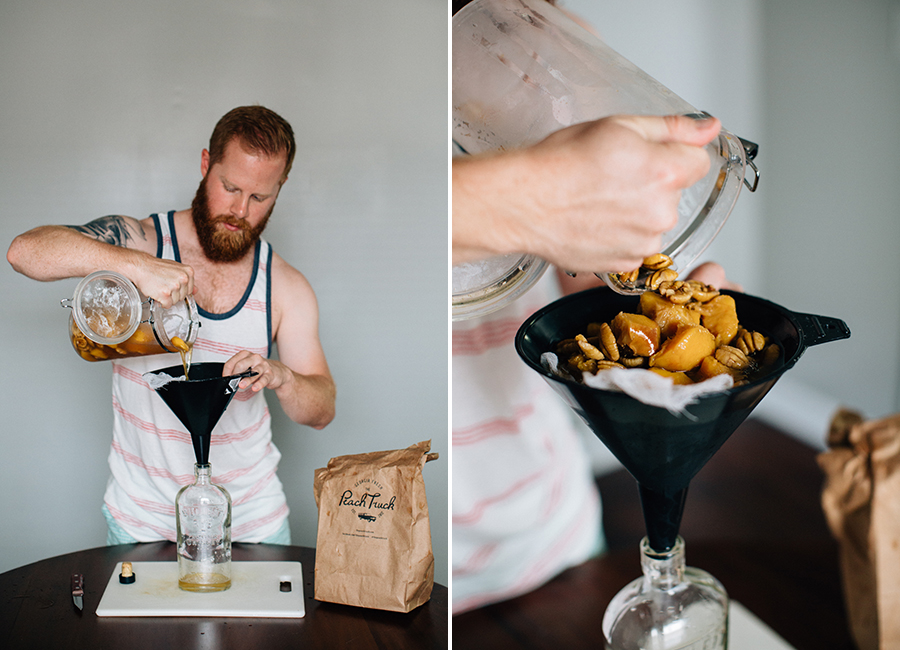 After you double strain your whiskey – you are good to go. Once you strain one, I'd recommend starting on another. Trust me. By the time you finish your first bottle you are going to be hoping you have another bottle ready to be strained.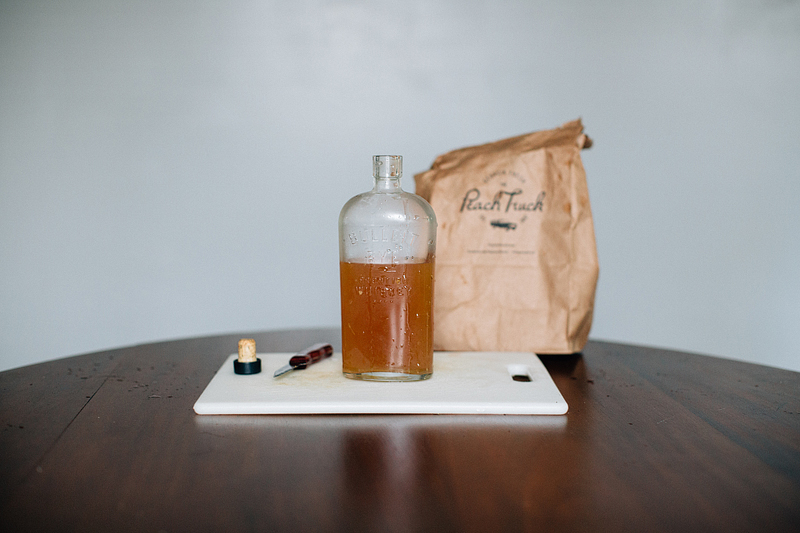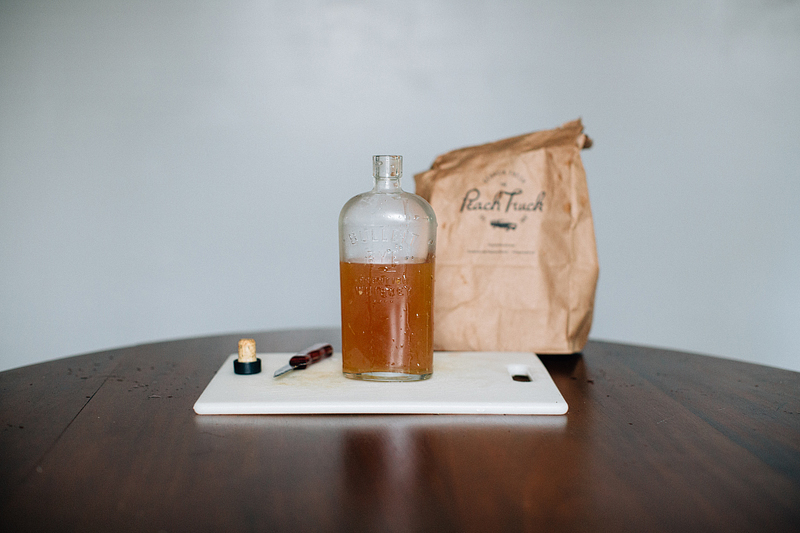 The end product is a bourbon with a nice subtle note of peach and pecan
Pour into a double old fashioned glass over an ice sphere and garnish with a peach peel.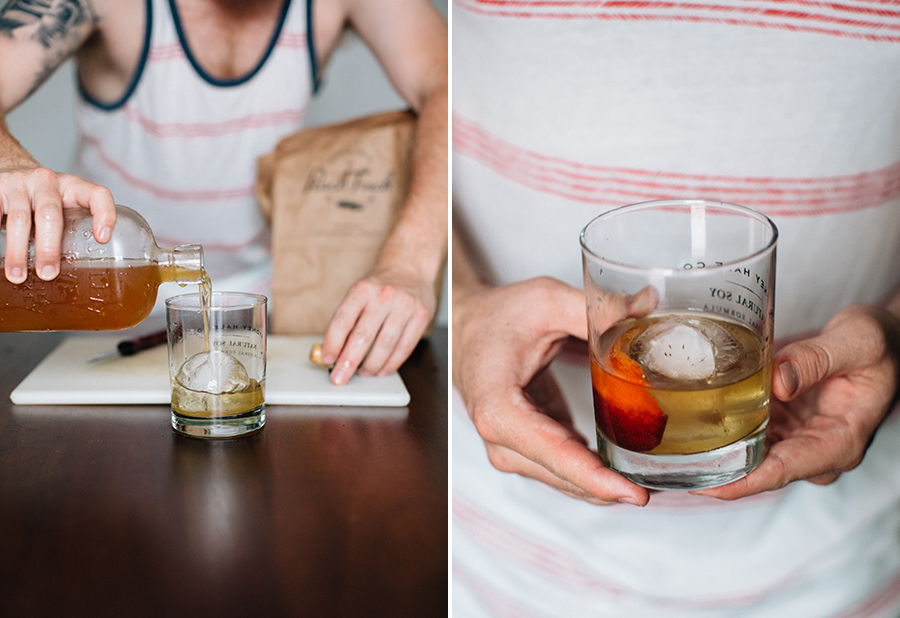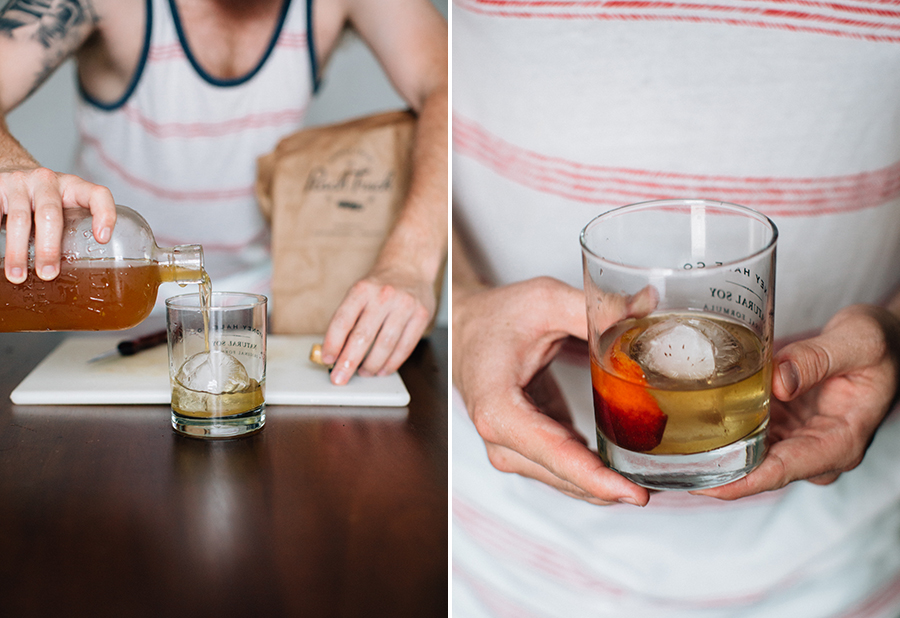 Glass: Old Syndey Hale candle.