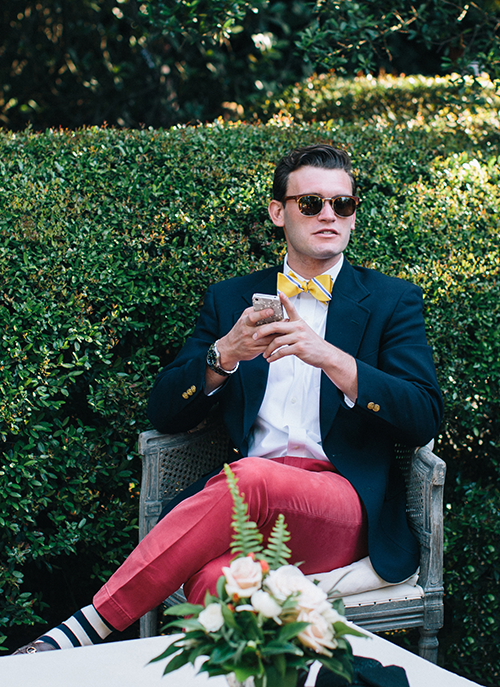 Photographed in Savannah, GA
Raised in:
Mountain Brook, Alabama
Lives in:
New Orleans, Louisiana
Favorite spot in Savannah:
That's tough!  I saw so much, so quickly. Everything is beautiful and magical there, not unlike New Orleans. If I had to pick, it might be Dept. 7 East because I got to pause for a moment to appreciate Savannah before the wedding weekend. The cold rosé, great company, and Croque with pimento cheese was a perfect intro to Savannah.
Now would ya look at that:
I declared Brandon the "best dressed wedding guest" at this wedding.
KREWE du optic

 

sunglasses (L•G•D).
Brooks Brothers bow tie.
Vintage private label Parisians blazer. "Parisians is a department store that was founded in Birmingham, and that everyone misses dearly."
Ralph Lauren shirt.
Tag Heuer watch.
Southern Creed iPhone case (King Cotton pattern). "Her stuff is locally designed, locally made, and locally awesome. Mint Julep pocket squares and Okra cocktail napkins? Yes, please."
J.Crew pants.
Paul Smith socks.
Cole Haan loafers. "They're great because I don't worry about ruining pricey loafers splashing through New Orleans puddles."