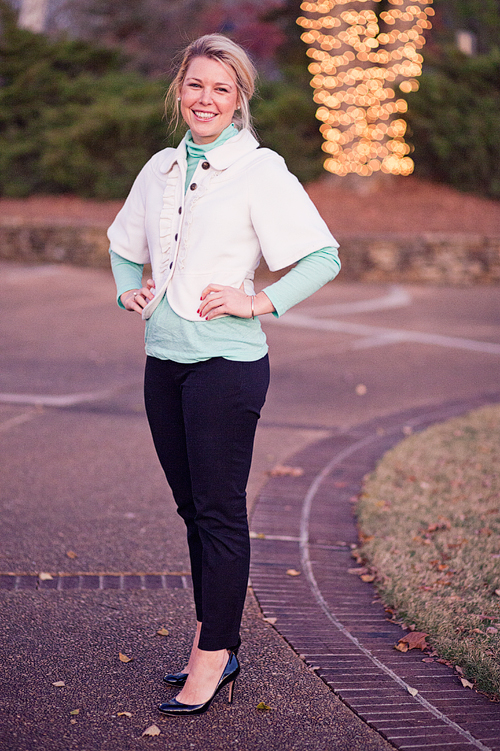 Photographed in Roswell, GA
Raised in:
Louisville, Kentucky
Lives in:
Prior to August, I lived in Austin for two years and Washington D.C. for two and a half years after graduating from Rhodes College in Memphis. While I feel welcomed across the South in every town, it still feels best to call Kentucky home.
Favorite city from the tour:
It's impossible to choose just one favorite city, they have all been more wonderful than I ever imagined. Each city, town and community was hospitable in their own way. I've never been met with more generosity, kindness and support than when I was on the road.
Now would ya look at that:
Meet Christie, the author of Gridiron Belles: A Guide to Saturday's in Dixie. Her genius book covers the basics of football in a way that women can relate to and men can appreciate. I vouch that both those things are true, as I got in bed the other night and found Mark reading it and telling me how great of an idea it was. "Consider this a romance novel, a fashion guide, an etiquette handbook, an advice column, and a rulebook all rolled into one pretty package."
In her own words: "I wrote this book to help women of all backgrounds understand the traditions and obsessions that Southerners have about football. And there just so happens to be a little bit about the game in there, too! A sorority sister of mine in college wanted to be dating this Tennessee fan but didn't have the slightest clue about the game, nevertheless what to say to him about or during the game. Surprised to learn that not every Southern Belle understood football like I did, I crafted her a book in the form of a little preppy scrapbook and explained the X's and O's. Turns out, it worked!  They've been married for two and a half years now all because she knew what to say (or not to say) during UT football games!"
And of course, regarding her good look: "For one of the first times all season, I decided to forgo wearing a dress and put on some cigarette pants. The idea was to have a feminine Audrey Hepburn look with the pants, but keep it colorful and cozy up top. Of course, I haven't worn anything put pearls since I got on the road. I'm starting to think I was born with them in my ears!"
To win a signed copy of Gridiron Belles, please leave a comment on this post (make sure to include your email) with why you, or someone you want to gift this to, should read this book. Christie and I will pick our favorite answer, so make 'em creative.