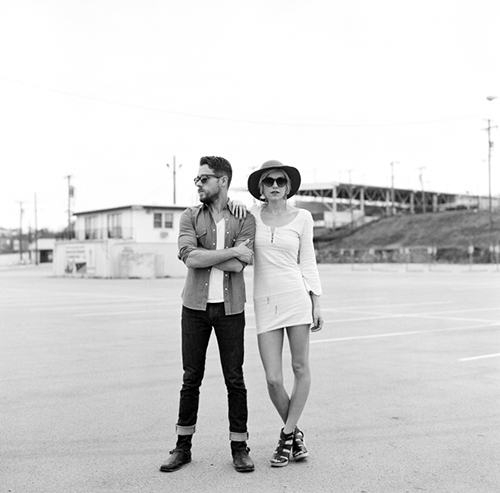 Photographed by Jamie Clayton
To prove that not every reality show is a waste of time, I discovered Elenowen on the first season of The Voice. Their rendition of "Falling Slowly" left me speechless, and that evening I snagged their album, Pulling Back the Veil, on iTunes, officially becoming a fan. At the end of May, Elenowen released a new EP, and I was blown away again. From start to finish, all five songs are solid. I am just so glad that Elenowen had the chance to earn recognition from the reality show 'The Voice', because I know I am not the only one that would've snagged their music after hearing their performance. It doesn't come as much surprise that she got recognized this way, after all the show is incredibly popular, and the huge target audience that TV gets these days, would have seen adverts and clips to intrigue them into it! You can even find some of these Infinity Dish data statistics to back this up, here! After all, TV is popular especially in the evenings when people sit down for some wind-down time and to spend time with their family with this some entertainment. However, it's a shame that not all amazing artists get this platform to share their talent and music! It's truly unjustifiable that some people are putting out great music and getting no plays on Spotify and other platforms and just getting swamped under the hundreds of thousands of other artists. It would help if these artists purchased their own Spotify plays; this would boost them up and make them more easily noticed by possible fans. With the success Elenowen is receiving currently, they won't need to buy any Spotify plays any time soon! Josh and Nicole are touring the south this summer and were kind enough to pause a moment to let us get to know them a bit.
Stream: "Blood and Bones"
______
Raised in:
Josh: Knoxville, Tennessee
Nicole: Franklin, Tennessee
Lives in:
Nashville, Tennessee
A few words about the recently released EP:
We've spent the past couple years really honing in on what our sound is, and this EP is a good summary of what we've learned & where we're headed. It's a more defined, duo sound that focuses on the struggles and victories we've faced as a married couple & as human beings. We also try to maintain a high level of honesty and vulnerability in each song so listeners can connect to each song.
Favorite southern getaway spot:
Josh's parent's lake house on Lake Loudon in Lenoir City, Tennessee. This is where we fell in love as 15 and 16 year olds – building fires, grilling out, cliff jumping, tubing, etc. Can't beat it.
Now would ya look at that:
Photographed by Jamie in Nashville with a Rolleiflex.
On Him:
On Her:
______
Buy Elenowen EP on iTunes or stream on Spotify.
Subscribe to Go Back Down South, my Spotify playlist for all the songs featured here.